I'm obsessed with curls. It's weird because normally you don't have what you're obsessed about. And that's why you're obsessed with it. But I have curly hair just not the kind that I like.
I'm obsessed with the idea that with a little help, my curls would be perfect. I think I have found the right formula for making my curls more defined but I discovered that the wash, leave to dry and don't comb trick doesn't always work.
So I decided to get help from the curling iron.
Yes, I went and bought my own Philips Salon Multistylist 10-in 1 the other day. This all in one product is meant not only to curl your hair but to straighten it and everything in between. Big waves, loose curls, ringlet – you name it, you got it! At only RM172 (inc. warranty of RM7), I think it's a good bargain.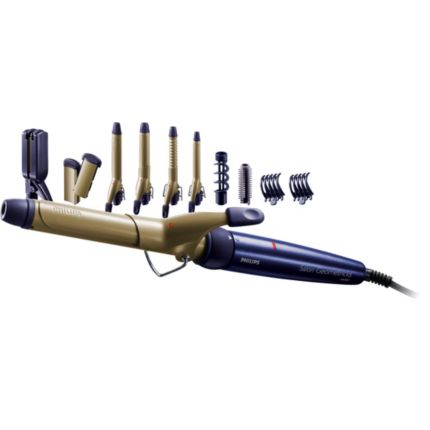 So I have been diligently watching youtube hair-curling tutorials and memorising them. I even experimented this morning before work. I'm still learning so my curls didn't turn out to my satisfaction.
For some strange reason, my hair always ends up straighter than before I curl them. It's as if all that curling makes my hair straighter and more voluminous! Like right now, my hair is hardly curly and it's poufy.
So, yeah, I'm still trying to find and experiment with different techniques to see which gives me the best result.
To be honest, I think curling hair with a flat/straightening iron is much simpler. So I'm going to try that the morning after (the next time) I wash my hair, which is probably Sunday morning. One technique gives you beach-y waves that's very OC and The Hills. Another technique involving a 1-and-half inch-curling thong results in Mariah Carey-esque curls (and you know how obsessed I am with her!). V. nice!
After I have mastered all the tips and tricks of curling hair, I might just offer my services to people who need curly hairdos for parties. (Haih, asyik nak buat duit je :P) Any takers?